I'm a member of several Etsy teams. Sophie Van Tiggelen of Bagatelle Designs is in two of those teams (Advertising and Promotion Team & Top Treasury Team) with me. I've really admired her high-quality feminine, colorful designs and decided that I wanted to feature her lovely work on my blog. I'm always a sucker for versatile jewelry that can be worn with both casual and dressier clothes. I think her tassel charm pendant necklace and colorful Swarovski crystal hoops would be perfect for travel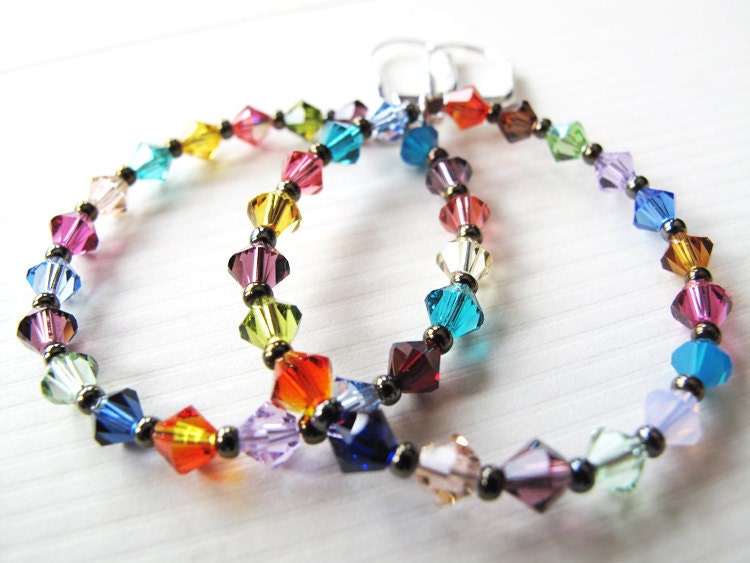 because they are so versatile.
Sophie is originally from Belgium but she and her husband and their three daughters moved to the United States (Colorado) in 2000. She enjoys the outdoors and sports so, Colorado is the perfect state for her as it offers her a beautiful location to indulge her fondness for biking and running.
Bagatelle Designs reflects her passion for color, texture, and shapes. She believes that what we wear is an expression of who we are and wants her work to make the wearer feel good and to brighten her day. As is apparent in the photos above, much of her work features Swarovski crystals. She loves them for their magical, sparkly quality that "reflects the beauty of the natural world surrounding us". She also uses Bohemian glass, gemstones, lampwork glass beads, and repurposed vintage elements. Sophie takes pride in her designs knowing that there is a story behind each piece that she handcrafts.
So, head over to Sophie's shop
http://www.etsy.com/shop/BagatelleDesigns
and have a look. Her well-crafted jewelry is sure to add sparkle and beauty to your day!